Travertine Pavers could be the ideal option as landscaping stones. A great landscape design consists of the right dosage of functionality of the space, aesthetics, safety components and the choice of plants and materials. The latter being one of the major criteria that will influence the overall aspect of the project, it is primordial for a designer or landscape architect to use the best choice of materials. Not only will it benefit the customer but also the appeal and maintenance of the project in the long run. In the landscaping world, travertine has made its appearance, but little do we know how it is actually a material to be further exploited in designing projects due to its advantages. Travertine pavers are beneficial in three major aspects of a landscaping project: Design, Construction and Safety.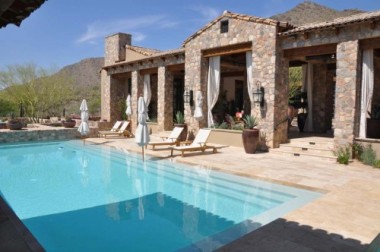 Design: For the design aspect, travertine pavers are a great option as they come in various colors and sizes. Travertine pavers are considerable for several types of projects, especially pools. The pool copings come in a variety of widths: smaller widths are ideal for pool edges that have many curves as there will be fewer cuts to be made. This will make it less time-consuming and less expensive for the contractor. Larger widths are more suitable for more linear, geometric shaped pools and large-scale projects. Travertine is also a favorable option to consider as it offers a wide selection of matching tiles to counterpart with the pavers. Such tiles are great for exterior spaces like outdoor kitchens and landscaping features like retaining walls for example. For the quintessential designer always looking for variety and novelty, travertine pavers provide a new kind of appeal. They are sleek and elegant, perfect for more modern looks. Travertine will emphasize the purist allure of a public space and gives great curb appeal to a property, all for a less expensive price than other traditional materials.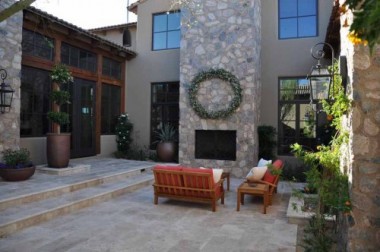 Construction: Concerning the construction facet of a landscaping project, travertine pavers offer many long-term advantages as landscaping stones. It is a lighter natural stone as opposed to granite or marble, which is favorable for the load capacity of a project. It is particularly important to consider the load capacity for elevated structures such as rooftop gardens or terraces. It will cause less stress on the existing structure and create no damage over the years. Long term wise, travertine pavers are highly regarded as they will not crack and are resistant to extremes cold and hot temperatures. They are durable and eliminate the need to redo the paving as opposed to concrete or brick pavers. Travertine will not lose its color as it ages or gets used. Being a limestone, it is perfect in terms of sustainable design as it is an environmentally friendly choice because it is extremely durable and will not require major changes over the years to come.
Safety: The last element to consider travertine pavers for is the safety component they offer as landscaping stones. Due to its properties, travertine is a natural stone that is safe and convenient. Its natural non-skid surface is again ideal for pool decks, avoiding chances of slip and fall while wet or for environments where children prevail. It is great for any kind of climate, withstanding the freezing cycles of cold climates and the extreme heat of warm/tropical climates. A big plus for travertine pavers is that they are cool to the touch and do not burn while walking on them barefoot in hot temperatures.
That being said, travertine pavers offer plenty of benefits when it comes to landscaping. It shows great advantages for the design, construction and safety aspects of landscaping. The durability, elegance and price quality ratio of travertine make it a great choice for upscale and permanent projects. It can be used for any scale project and comes in various colors and sizes to respond to the client's tastes and needs. It is not surprising now to see mainstream brick and concrete pavers replaced with travertine pavers and they will surely be more noticeable in future landscaping projects to come.