Sale!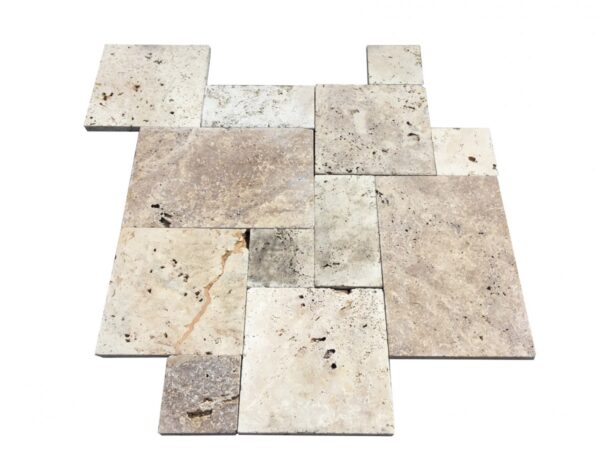 French Pattern Roman Walnut Blend Tumbled Travertine Pavers Standard Grade *NEW YEAR SALE* (Until 01/22/21)
$2.99 /Sqft
The price listed is a Pre-Order Price. Pre-Order Pricing is where you pay today to lock in your order in advance at a low price. The order has 6-9 weeks transit time. Delivery Now Pricing is $2.29 per sqft
ROMAN WALNUT BLEND IS A STANDARD GRADE PRODUCT. It contains medium to large size holes and some pores. This product is an excellent choice for value buyers and contractors. Roman Walnut Blend Travertine Pavers are a mix of Ivory, Walnut, Country Classic and Noche tones. No color selection has been made. Overall, all colors and tones flow very well with each other. This product is an excellent choice for value buyers and contractors.  
Roman Walnut Blend Travertine
Tumbled Pavers contain holes. These pavers have 
high variation
. A sample pallet could contain a mixture of ivory, walnut, country classic and noche. Roman Walnut Blend Travertine French pattern consists of 8x8, 8x16, 16x16, 16x24 sizes. 1.25" thick. This product is a
FINAL SALE and we do not accept returns.
See the difference between Standard Grade and Premium Grade here.
Recommended Use:
Pool Deck / Patio - Low Cost Travertine Pavers - French Pattern.
Want to get an estimate on what it would cost to have this material shipped to your door? Simply add the quantity you need in the box above and click 'Add to My Estimate.' Once you have finished putting together your estimate, go to the My Estimates page (located in the upper right hand corner of this page), submit a copy to us and we will get started on your order right away!

We send color samples for all sample orders, we are unable to send actual sizes.
Technical Description is not available........
'
French Pattern Roman Walnut Blend Tumbled Travertine Pavers Standard Grade *NEW YEAR SALE* (Until 01/22/21)
Overall rating: out of 5 based on 4 reviews
Decent Pavers

To be considered Standard quality, the material is very decent and my patio looks great. I used some Epoxy as recommended, to fill up bigger porosities.
-Grace
Great price

The pavers had that look I wanted with some holes and the price was even better! Vendors here (I live in Arizona) asked for a lot more. Perfect for my backyard
-Jimmy Fernandez
Coming back for more!

I just received 2000 feet of this material. I was expecting more holes throughout out the pavers. It looks better than expected. For this price, I will come back for more.
-Jim Robinson
Rate the product