Sale!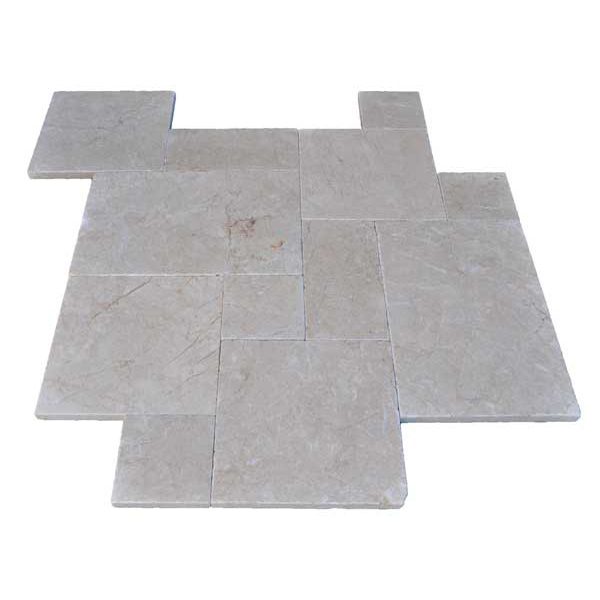 Premium Select French Pattern Pearl Tumbled Marble Pavers *FALL PRE-ORDER SALE* (Until 09/21/20)
$4.88 /Sqft
Our PREMIUM SELECT French Pattern Tumbled Pearl Marble Pavers have an ivory background with light and dark brown veins throughout. There is significant movement in terms of veins throughout. French pattern consists of 8x8, 8x16, 16x16, 16x24 sizes. 1.25" thick. Recommended Use: Pool Deck / Patio
Want to get an estimate on what it would cost to have this material shipped to your door? Simply add the quantity you need in the box above and click 'Add to My Estimate.' Once you have finished putting together your estimate, go to the My Estimates page (located in the upper right hand corner of this page), submit a copy to us and we will get started on your order right away!

We send color samples for all sample orders, we are unable to send actual sizes.
Technical Specifications
Water Absorption: .196%
Bulk Specific Gravity: 2.68
Co-Efficient of Friction: avg dry .64 | avg wet .71
Freeze-Thaw Cycle: Pass
What does that mean for me? This material will have almost no holes and no pores, as marble is much more dense than travertine. It is usually used for pool decks. It will be be more slippery compared to travertine. Premium Select Grade – very dense. No signs of cracking or deformation during a freeze/thaw cycle. **All materials are ASTM Tested (American Society Testing Materials) at an independent lab.**
'
Premium Select French Pattern Pearl Tumbled Marble Pavers *FALL PRE-ORDER SALE* (Until 09/21/20)
Overall rating: out of 5 based on 0 reviews
Rate the product