Sale!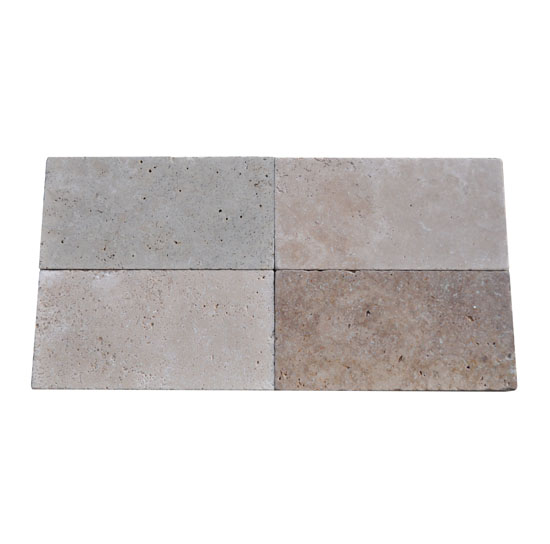 Premium Select 6×12 Ivory Swirl® Tumbled Travertine Pavers *NEW YEAR SALE* (Until 01/29/21)
$2.88 /Sqft
The price listed is a Pre-Order Price. Pre-Order Pricing is where you pay today to lock in your order in advance at a low price. The order has 6-9 weeks transit time. Delivery Now Pricing is $2.75 per sqft
Our PREMIUM SELECT 6x12 Pattern Ivory Swirl ® Tumbled Travertine Pavers have a dark ivory background with a blended mixture of light brown, dark ivory, gray, and walnut tones. There is significant movement throughout and a high variation is to be expected.
Recommended Use:
 Pool Deck / Patio
Want to get an estimate on what it would cost to have this material shipped to your door? Simply add the quantity you need in the box above and click 'Add to My Estimate.' Once you have finished putting together your estimate, go to the My Estimates page (located in the upper right hand corner of this page), submit a copy to us and we will get started on your order right away!

We send color samples for all sample orders, we are unable to send actual sizes.
Technical Specifications
Water Absorption: .85%
Bulk Specific Gravity: 2.5
Co-Efficient of Friction: avg dry .64 | avg wet .74
Freeze-Thaw Cycle: Pass
What does that mean for me? This material has pores which allow water to absorb quickly. It is perfect for a pool deck as it is not slippery when wet. Premium Select Grade – very dense. No signs of cracking or deformation during a freeze/thaw cycle. **All materials are ASTM Tested (American Society Testing Materials) at an independent lab.**

Nature of Travertine: Travertine is a porous stone and will have visible surface pores and holes. These are not defects, they are the inherent nature of the stone, allowing it to absorb standing water, and making it perfect for outdoors.

Travertine is a natural stone and will display natural variations in color, quality, shading, veining, markings and texture from piece to piece and crate to crate. Variation is an inherent characteristic of natural stone – no two stones will ever be the same, and that is what makes it beautiful.
'
Premium Select 6×12 Ivory Swirl® Tumbled Travertine Pavers *NEW YEAR SALE* (Until 01/29/21)
Overall rating: out of 5 based on 1 reviews
Nice driveway pavers

I was in the market for some driveway pavers and came across Travertine Mart, which offers really affordable prices for travertine pavers. We chose the ivory swirl pavers in the 6x12 size and glad we did. We used a light sealer to protect the pavers and our driveway looks fantastic.
-Kyle Adams
Rate the product